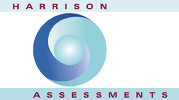 Harrison Assessments, an internationally recognised researched and proven methodology, will identify successful traits and traits that could hinder performance for any position.
The Harrison Assessments reports are based on two universal theories:
Enjoyment-Performance Theory
Paradox Theory, a unique insight into the psychological opposites, as realized by Carl Jung and Freud.
Read more about these 2 Harrison Assessments theories
The Harrison Assessments Questionnaires
The high-tech questionnaire provides more information than a full day of multiple-choice testing - in less than 30 minutes!
This unique technology performs over 100,000 calculations, cross-referencing groups of items that have been ranked in order of preference. The hi-tech questionnaire provides an accurate measurement of more than 150 different traits spanning a range of behavioural assessment types including personality traits, values, interests, task preferences, and work environment preferences.
The sophisticated cross-referencing technology not only prevents deception, it detects even the slightest attempt to deceive. The lie detection methodology is 99% effective - more accurate than galvanic skin response technology which is often used in criminal investigations. While not perfect, the lie-detection capability far exceeds previous attempts which have been less than 10% effective.
Harrison Assessments (HA) questionnaires are in multi languages including English, Chinese, Thai, German, Indonesian, French, Romanian, Spanish, Malaysian, Swedish, Vietnamese, Korean and Portuguese.
The questionnaire can be administered remotely through the web. Layered security levels and hierarchies enable web system administrators to coordinate their work in any manner you designate from anywhere in the world.
Once your system is set up, you don't have to rely on expert interpretation. The easy to read reports quantify any individual's behaviour in relationship to your specific performance requirements. This is far more useful than the generalized and often vague descriptions found in personality assessment. Each report is completely unique, being constructed specifically for the person in relationship to the organizational and position requirements. No two reports will ever be the same. This significant advance in assessment technology enables you to receive expert knowledge without having to involve an assessment expert for each employment decision. Your assessment experts can focus on the system setup, allowing others to use the customized reports with little or no training. Learning to administrate the questionnaire and generate the reports takes only 1-2 hours.